GRADEL's proven solutions
for a more sustainable future
GRADEL's proven solutions
for a more sustainable future
LEADING THE WAY IN SUSTAINABILITY
HOW INNOVATION KEEPS GRADEL AHEAD OF THE GAME
Alors que le monde est confronté à des défis sociaux et environnementaux croissants, la durabilité est devenue un aspect crucial de la prise de décision à tous les niveaux, tant dans le secteur privé que public. Cependant, la corrélation entre les aspects sociaux, environnementaux et économiques de la réalisation des objectifs de durabilité peuvent rendre la mise en œuvre et la réalisation difficiles.
Dans ce contexte complexe, l'INNOVATION est considérée comme le CHAÎNON MANQUANT pour atteindre les objectifs économiques et environnementaux et relever les défis du découplage éco-économique.
As the world faces increasing social and environmental challenges, sustainability has become a crucial aspect of decision making at all levels, both in the private and public sectors However, the correlation between social, environmental, and economic aspects of meeting sustainability goals can make implementation and realization difficult.
In this complex context, INNOVATION is seen as the MISSING LINK to achieving economic and environmental goals and to overcoming the challenges of eco economic decoupling.
At GRADEL we take pride in placing INNOVATION at the heart of our STRATEGY for over 65 years of industrial activities.
Our focus on innovation has kept us at the forefront of technological advancement, while also respecting environmental and social concern
Recent changes and challenges, particularly in the realm of the environment, have once again highlighted the importance of an innovation oriented strategy for maintaining a competitive advantage from all perspectives
We are excited to share the sustainability aspects of our activities, which have been implemented across three main sectors of our operations.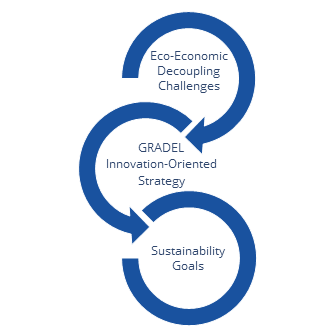 LEADING THE WAY IN SUSTAINABLE NUCLEAR POWER
The European Union's recent approval of nuclear energy as a green energy source has prompted decision makers to re-evaluate the role of this low-carbon energy in Europe's energy security It has also highlighted the vulnerability of the energy mix without nuclear power, as a puzzle missing critical pieces.
For over 55 years, GRADEL has been a leading player in the nuclear business ecosystem by providing innovative solutions to nuclear power plants. Our focus on sustainability includes several key areas.
Reducing Operator Exposure to Radiation
At GRADEL, we understand the importance of reducing exposure to radioactive doses for nuclear power plant operators That's why we offer customized cleaning and filtration equipment that allows for maintenance and waste management to be performed underwater, reducing the risk of operator exposure. This innovative solution is just one of the ways we are committed to making nuclear power generation more sustainable.
Innovative Maintenance Services
By providing concrete and precise maintenance services, GRADEL is able to extend the lifetime of nuclear power plants, resulting in decreased maintenance and operation costs as well as reduced environmental impacts from non-performing reactor components.
Optimizing Waste Management
Offering customized solutions for cutting and compacting components, GRADEL ensures safe and efficient waste handling during the decommissioning phase, resulting in a significant reduction of waste volume.
gradel MGSE  & FLIGHT HARDWARE – EMPOWERING SUSTAINABILITY IN SPACE
Space as an astonishing sector which opens the door for groundbreaking discoveries is in the heart of GRADEL activities since 2008. Offering high precision automated machines -as Mechanical Ground Support Equipment (MGSE)- has let GRADEL to tune up for delivering complex solutions.
The next milestone is offering flight hardware solutions, by means of the internally developed GRADEL Robotic Additive Manufacturing (GRAM) process. This innovative solution can enforce sustainability of space missions in many levels.
Energy Efficiency / Decreasing Carbon Footprint
Reducing the weight of key parts can greatly lower energy usage during transportation and/or launch. This has a domino effect, as lighter components lead to lighter subsystems. For example, lighter structures in a mobile system would mean smaller mobility and power subsystems, resulting in a lower carbon footprint.
Material Efficiency / Introducing Circularity by Bio-Based Materials
Being lightweight by definition means using fewer materials. At GRADEL we're committed to reducing our material footprint by incorporating not only lighter parts, but also advanced bio-based and bio-sourced materials into our products. This helps make our products more sustainable on all levels.
GRAM's manufacturing process relies on continuous fibers that are wound according to calculated fiber paths determined by topology optimization methods. As a result, there is minimal waste during the manufacturing phase, making it a highly efficient and unique process.
SPACE DEBRIS MITIGATION SOLUTIONS
As we venture further into space and deploy an increasing number of satellites, it's crucial to think about the strategies for removing these satellites from orbit at the end of their operational phase. GRADEL is actively involved in offering space debris removal solutions to ensure long term sustainability of our space environment.
GRADEL's Lightweight Solutions for Faster and Safer Satellite Deorbiting
At GRADEL, we're dedicated to promoting sustainability in space exploration by offering lightweight solutions that shorten the deorbiting time of satellites. The increasing number of constellations and small satellites in Low Earth Orbit has made the space environment more complex, which is why we're working with our partners to provide faster and safer methods for satellite deorbiting. With our solutions, we aim to ensure a sustainable future for space exploration.
Saving the Ozone: GRADEL Innovative Solution for Sustainable Satellite Re-entry
Contrary to popular belief, satellite re-entry is not a fool proof solution to the space debris problem. In fact, the chemical reactions that occur during re-entry, such as the release of Aluminum oxide, can seriously harm the ozone layer. GRADEL is committed to finding creative ways to minimize the impact of these risks, like incorporating carbon-based lightweight materials instead of the high-risk Aluminum in satellite hardware. By prioritizing sustainability in our technological advancements, the possibilities for a cleaner and healthier space environment are endless. It's time to start thinking about the bigger picture and consider the long-term impact of our actions on the space environment. Let's work all together towards creating a sustainable future for our planet and all its inhabitants.
SPUTTERING TARGETS – TARGETING EFFICIENCY AND SUSTAINABILITY

By leveraging its patented vertical continuous casting process, GRADEL consistently delivers top notch sputter targets of the highest quality. At GRADEL, we are dedicated to minimizing waste throughout the entire process and promoting circularity in action. This is achieved through multiple steps and a commitment to sustainability at every stage of production.
Driving Circularity and Reducing Waste in the Production Process
GRADEL's Tube Refilling with Non-Sputtered Metal Recovery initiative aims to reduce waste and enhance the circularity of the production process. By refilling tubes with recovered metal, the targets can be reused multiple times and the metal is recycled up to 99%, promoting sustainability and minimizing the environmental impact.
GRADEL's Initiative for Water Efficiency
At GRADEL, we believe in taking a holistic approach to sustainability and cost effectiveness. By utilizing rainwater for thermal regulation in our production process, we are not only reducing costs, but also making a positive impact on the environment This innovative solution helps to conserve precious resources, reduce our environmental impact, and demonstrate our commitment to sustainability in everything we do.
Prolonging the Use-Phase of Stainless-Steel Backing Tubes
GRADEL has established innovative methods for repeated use of the stainless steel backing tubes while preserving their original quality. This is achieved through straightening the tubes before and after casting, and implementing a process for replacing the end section in the event of sealing surface damage or tube shrinkage caused by repeated casting. This approach not only provides economic benefits for GRADEL and its customers, but also supports the company's commitment to circularity and material efficiency.